The war on marijuana: The transformation of the war on drugs in the 1990s
Harm Reduction Journal
2006
3:6
Received: 20 September 2005
Accepted: 09 February 2006
Published: 09 February 2006
Abstract
Background:
As the "war on drugs" enters the latter half of its third decade since being forged into the American lexicon by President Ronald Reagan, the public has grown more skeptical of the current strategy and has proven to be receptive to a broader consideration of alternatives to incarceration. This has been the case most notably with marijuana offenses, where the policy discussion has shifted in some localities to one of decriminalization or de-prioritizing law enforcement resources dedicated to pursuing possession offenses. Despite the increased profile surrounding marijuana policy in recent years, there remains a significant degree of misunderstanding regarding the current strategy, both in terms of how resources are being allocated and to what eventual gain.
Methods:
Previous studies have analyzed drug offenses as a general category, but there has yet to be a single study that has focused specifically on marijuana offenders at all stages of the system. This report analyzes multiple sources of data for the period 1990–2002 from each of the critical points in the criminal justice system, from arrest through court processing and into the correctional system, to create an overall portrait of this country's strategy in dealing with marijuana use.
Results:
The study found that since 1990, the primary focus of the war on drugs has shifted to low-level marijuana offenses. During the study period, 82% of the increase in drug arrests nationally (450,000) was for marijuana offenses, and virtually all of that increase was in possession offenses. Of the nearly 700,000 arrests in 2002, 88% were for possession. Only 1 in 18 of these arrests results in a felony conviction, with the rest either being dismissed or adjudicated as a misdemeanor, meaning that a substantial amount of resources, roughly $4 billion per year for marijuana alone, is being dedicated to minor offenses.
Conclusion:
The results of this study suggest that law enforcement resources are not being effectively allocated to offenses which are most costly to society. The financial and personnel investment in marijuana offenses, at all points in the criminal justice system, diverts funds away from other crime types, thereby representing a questionable policy choice.
Keywords
Marijuana UserFederal PrisonFelony ConvictionDrug ArrestPossession Offense
The War on Marijuana: The Transformation of the War on Drugs in the 1990s
Federal law enforcement is targeted effectively at convicting major drug traffickers and punishing them with longer lockups in prison. [1]
-John Ashcroft, Former United States Attorney General
Background
Despite decades of discussion and intense media coverage, there remains considerable confusion regarding how the criminal justice system treats marijuana offenders. This misunderstanding has catalyzed a contentious debate that has been characterized by disagreements about the appropriate legal status of marijuana, the suitable level of punishment, and the most effective distribution of institutional resources to address marijuana use. This has been coupled with a fundamental difference of opinion about the true dangers that marijuana use poses to American society. In light of international developments in which a number of countries have reduced punishment for marijuana use, as well as the growth in the domestic decriminalization movement culminating in local ballot initiatives and proposals to amend state law, the struggle over the appropriate criminal justice response to marijuana has become a key policy concern.
Drug war advocates such as John Walters and former Attorney General John Ashcroft have frequently remarked that the current criminal justice approach to drug abuse represents an efficient use of resources. Walters, the head of the Office of National Drug Control Policy, has lamented that persons who claim that prisons are full of low-level drug offenders are incorrect and have misinformed the debate on drug policy [2].
In order to provide a framework for assessing the role of marijuana enforcement in the criminal justice system, we have conducted a national analysis of marijuana offenders for the period of 1990 to 2002. This includes an assessment of trends in arrest, sentencing, and incarceration, along with an evaluation of the impact of these developments on marijuana price and availability, and the use of crime control resources. Our analysis indicates that the "war on drugs" in the 1990s was, essentially, a "war on marijuana."
Key findings include:
Of the 450,000 increase in drug arrests during the period 1990–2002, 82% of the growth was for marijuana, and 79% was for marijuana possession alone;

Marijuana arrests now constitute nearly half (45%) of the 1.5 million drug arrests annually;

Few marijuana arrests are for serious offending: of the 734,000 marijuana arrests in 2000, only 41,000 (6%) resulted in a felony conviction;

Marijuana arrests increased by 113% between 1990 and 2002, while overall arrests decreased by 3%;

New York City experienced an 882% growth in marijuana arrests, including an increase of 2,461% for possession offenses;

African Americans are disproportionately affected by marijuana arrests, representing 14% of marijuana users in the general population, but 30% of arrests;

One-third of persons convicted for a marijuana felony in state court are sentenced to prison;

One in four persons in prison for a marijuana offense – an estimated 6,600 persons – can be classified as a low-level offender;

An estimated $4 billion is spent annually on the arrest, prosecution and incarceration of marijuana offenders.
The findings in this report call for a national discussion regarding the zealous prosecution of marijuana use and its consequences for allocation of criminal justice resources and public safety. Law enforcement has focused disproportionately on low-level possession charges as a result of the nation's lack of a thoughtful strategy about how best to address the consequences of marijuana use. Consequently, police spend a significant amount of time arresting marijuana users, many of whom do not merit being charged in court. This diverts efforts away from more significant criminal activity while having no appreciable impact on marijuana cost, availability, or use. As state and federal resources become more limited, a rational consideration of the most efficient way to address marijuana use is critical; this discussion should take place outside the realm of political rhetoric. The findings in this study can inform that conversation with sound, empirical analysis of more than a decade's worth of data on the criminal justice system's treatment of marijuana offenders.
Discussion and recommendations
It is apparent that despite a rapidly evolving national dialogue around marijuana use and a renewed discussion of alternatives to arrest and incarceration, during the 1990s the law enforcement community pursued marijuana offenses with a renewed vigor. Arrests for possession came to dominate nearly all of the growth in drug arrests during the period studied. Assertions that "nobody" goes to prison for marijuana are misguided and over-simplify the policy issue. Modest numbers of persons serving time in prison for a marijuana offense does not necessarily mean that the country is effectively calibrating its resources to address marijuana use.
Narrowly focusing on people incarcerated in state and federal prison for marijuana offenses diverts the lens of analysis from the real target: low-level marijuana users. These persons have disproportionately been targeted by the war on drugs in the 1990s. Increased arrests and frequent use of probation and suspended sentences may give the appearance that the correctional system has been calibrated properly to only incarcerate the most severe offenders, but a discussion of resource allocation demands that we also consider the growth of persons with an arrest and felony conviction record as a result of this policy. Such persons face many of the same challenges and obstacles as people who have been incarcerated. These include a denial of federal financial aid for higher education, lack of access to federal aid such as food stamps, denial of entry to public housing, and a prohibition on the right to vote, in some states for life. In addition to the institutional hurdles, there remain informal barriers for persons with a felony conviction, such as the difficulty to compete for employment with a criminal record. All of these critical issues are a cost of the drug war and exist equally whether one spends time in prison or serves a sentence in the community.
Moreover, there are important policy questions regarding the growth of marijuana arrests and the impact on law enforcement and court processing resources. As states continue to struggle under budgetary constraints, the wisdom of making nearly 700,000 marijuana arrests annually, the majority of which will be dismissed or processed as misdemeanors, is called into question. Proponents of public order, or "broken windows" policing, maintain that these arrests are symbolic and serve to maintain order, which leads to the suppression of more dangerous crime. However, this is a contentious point, and more than twenty years after the philosophy was put forth by James Q. Wilson and George Kelling, there remains no empirical validation of its truth. Criminologist Ralph Taylor notes that "initial incivilities contribute to later changes in some serious crimes ... [b]ut the contributions are neither as sizable as anticipated, nor as consistent ... [70].
What is empirically evident is that the growth in marijuana arrests over the 1990s has not led to a decrease in use or availability, nor an increase in cost. Meanwhile, billions are being spent nationally on the apprehension and processing of marijuana arrestees with no demonstrable impact on the use of marijuana itself, or any general reduction in other criminal behavior. Our analysis of criminal justice processing of marijuana use over the 1990s suggests that the contemporary approach is apportioning resources inefficiently at each stage of the system. In order to address issues of marijuana and the criminal justice system in a more effective manner, policymakers and practitioners should consider the following recommendations.
Law enforcement
Prioritize arrest policies
As has become policy in jurisdictions such as Seattle and Oakland, law enforcement agencies should categorize enforcement of marijuana possession as a low priority so as to conserve police resources for more serious offenses.
Eliminate marijuana enforcement as a means of "broken windows" policing
Marijuana arrests in some cities have been justified on the premise that arresting people for marijuana possession disrupts other, potentially more serious, behaviors. Such strategies result in substantially increased numbers of low-level marijuana arrests, with little evidence that they are actually effective in suppressing other criminal behaviors. Further, they contribute to the mistrust of law enforcement, particularly in communities of color that have been disproportionately targeted by such practices.
Courts
Exercise prosecutorial discretion to divert cases from the court system
Few marijuana possession arrests result in any significant jail or prison time, yet they are cumulatively quite costly to the court system through the engagement of prosecutors, defense counsel, judges, and probation officers. Prosecutors should use their discretion in appropriate cases to drop charges and/or utilize community resources at the earliest possible stage of court proceedings in order to effect outcomes that represent a reasonable allocation of resources.
Exercise prosecutorial discretion to reduce the number of felony convictions
In most states felony drug convictions carry a set of collateral consequences in addition to whatever punishment is directly imposed. These may include a ban on receipt of welfare benefits, prohibition on living in public housing, loss of student loans, and loss of the right to vote. These punishments place additional burdens on ex-offenders attempting to reenter the community. Therefore, to the extent that the interests of justice can be served through a misdemeanor conviction rather than a felony, prosecutors should use their charging discretion to pursue such outcomes.
Policy
Encourage debate on marijuana policy
National debate on drug issues has too often been characterized by "soundbites" that distort the policy issues under consideration. In the case of marijuana, proposals for decriminalization represent an alternative approach to current policy. Consideration of such options should be addressed in the context of the findings of this report, including the substantial criminal justice and social costs involved in the large-scale prosecution of marijuana offenders. National debate on marijuana policy, and drug policy generally, should be focused on the most effective ways of addressing substance abuse and the most efficient allocation of law enforcement resources.
Federal government should respect local decisions
For the period of the war on drugs, federal funding – currently $19 billion a year – has been allocated in a 2:1 ratio of enforcement to treatment/prevention [
71
]. These priorities have resulted in a bloated prison population, with high proportions of low-level offenders. The Federal government should defer to local governments to develop their own approaches to marijuana use and respect the choices of state, county, and city policymakers. Federal funding should not be tied to a locality's decision to address marijuana use in only one fashion, namely law enforcement; rather, it should also encourage and adequately fund alternative strategies. A number of cities have raised concerns about the emphatic prosecution of marijuana as putting undue stress upon law enforcement resources, culminating in calls for and implementations of policy changes. The federal government should recognize these developments, and respect the choices of communities and local government agencies.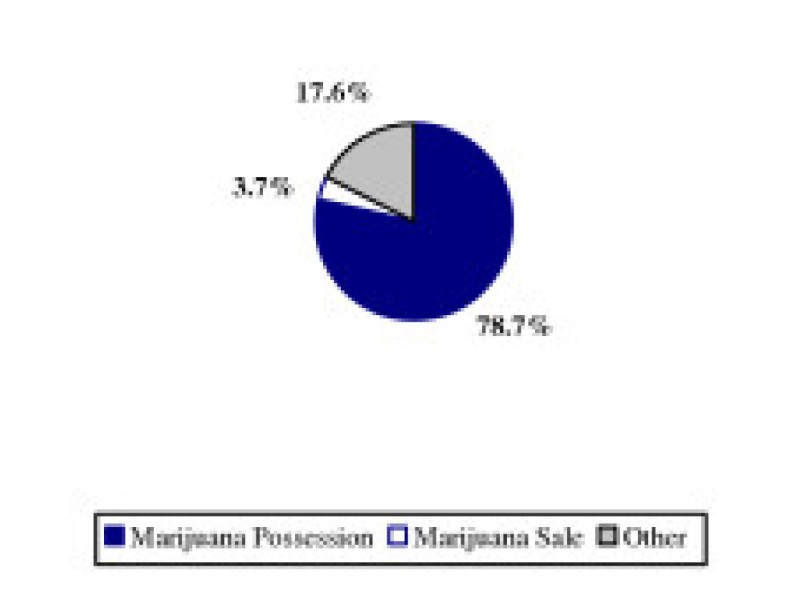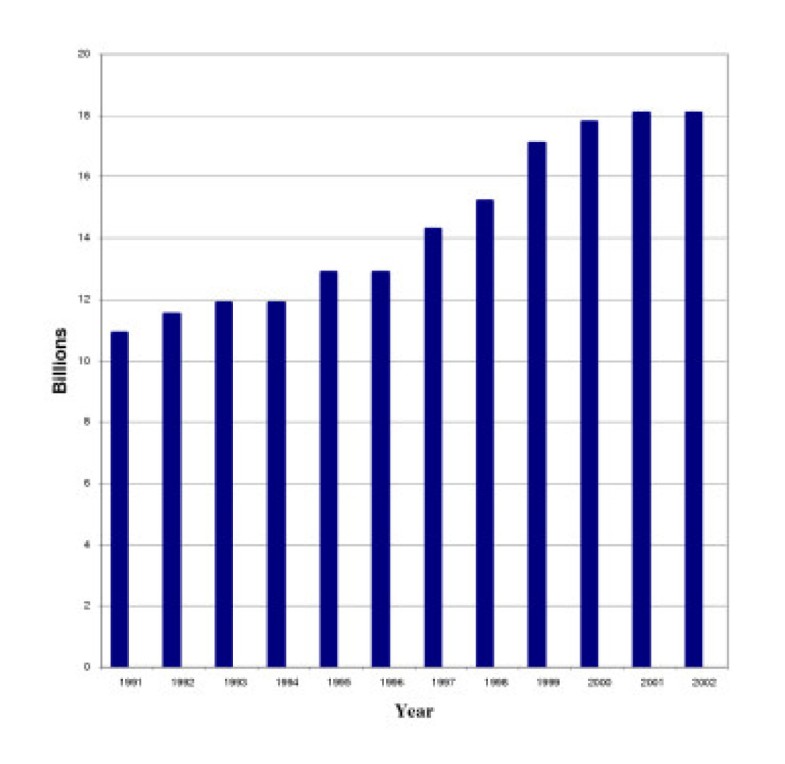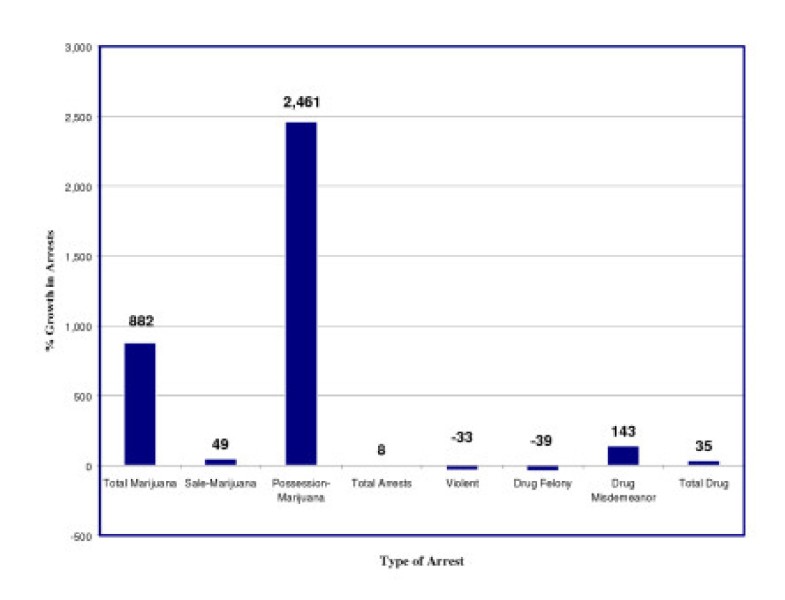 Table 3
Average Felony Sentence (months) in State Court – 2000
| | All Offenses | Aggravated Assault | Marijuana | Marijuana Possession | Marijuana Trafficking |
| --- | --- | --- | --- | --- | --- |
| Prison/Jail | 36 (16)* | 37 (16) | 28 (12) | 31 (16) | 27 (9) |
| Probation | 38 (36) | 40 (36) | 40 (36) | 42 (36) | 39 (36) |
Table 4
Criminal History of Marijuana Offenders
| First-Timers | Recidivist/Non-Violent | Recidivist/Violent |
| --- | --- | --- |
| 40% | 48% | 12% |
Authors' Affiliations
(1)
The Sentencing Project, NW, USA
Copyright
© King and Mauer; licensee BioMed Central Ltd. 2006
This article is published under license to BioMed Central Ltd. This is an Open Access article distributed under the terms of the Creative Commons Attribution License (http://creativecommons.org/licenses/by/2.0), which permits unrestricted use, distribution, and reproduction in any medium, provided the original work is properly cited.